Hello everyone! First off, let me just say that I'm very sorry I haven't been around. Things are always crazy around the house(and will probably always be crazy).
I can't believe Christmas is already gone! It went by so fast. Well, we're still in the Christmas season so Sunday mass is still going to have incense!
I'm moving right along to what I got for Christmas because I am very anxious to just tell you all. I got *trumpet blares* hobbit slippers!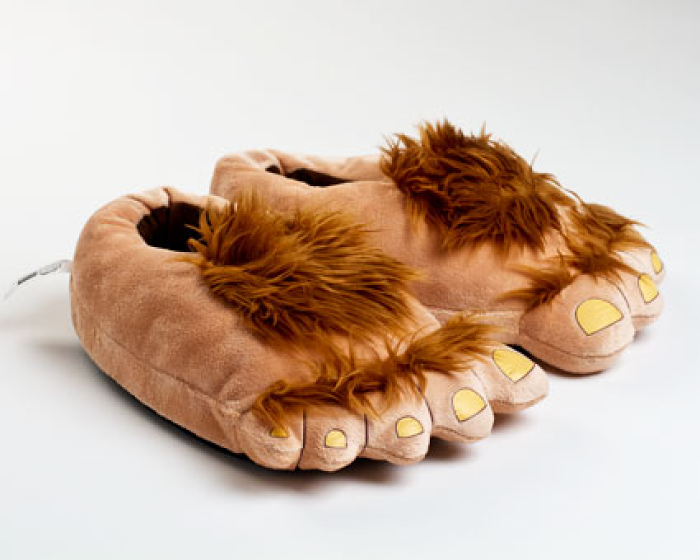 They look like this except WAY better in real life!
Not that I needed them (because I already have hobbit feet!) but they are pretty darn cool. One of my older sisters gave them to me and they are SO COMFY. I wear them ALL. THE. TIME.
Me when I opened the box on Christmas Eve
What else did I get? Let me see. Oh yeah! I got a gift card to Ruby's Diner from my Uncle Jr. And my Uncle Stinky (yes, we really call him that...) gave me some very cozy mittens and ear-warming thingy that looks like a sweatband. But they are SO STINKIN' WARM! I feel silly wearing it around the house and I feel like I'm an 80's aerobic dancer. Not that it's a bad thing! I think they're awesome!
And I, being the best gift-giver ever, made my aunts and uncles (even Uncle Stinky) mugs! Well, I didn't exactly make the mugs but I bought mugs and drew Disney characters on them. I will try to get some pictures of them in a different post. I drew Ewoks, Wendy Darling, Moana, Superman, Nick Wilde, Nemo, little Dory, and more! So come back and visit if you want to see what I did!
And, just in case I don't have time to write another post before the new year comes, have a happy New Year!
__________________________________________________________________________________
P.S. Hello Fawn's blogger friends and occasional visitors! This is Frodo Baggins and I hope you had a very Merry Christmas! Stay warm, everyone!