So there's this show on Amazon Prime that Liah and I watch. It's called Annedroids. And it's amazing. I love it. It motivates me not to groan when it's time to do science. It's a very educational show. And guess what?! My mom (bless her heart) counts watching this show as doing science(!).
This post is meant to explain my obsession with this show. Hopefully, it makes any bit of sense. If it doesn't, well I tried. Let us begin.
The Main Characters: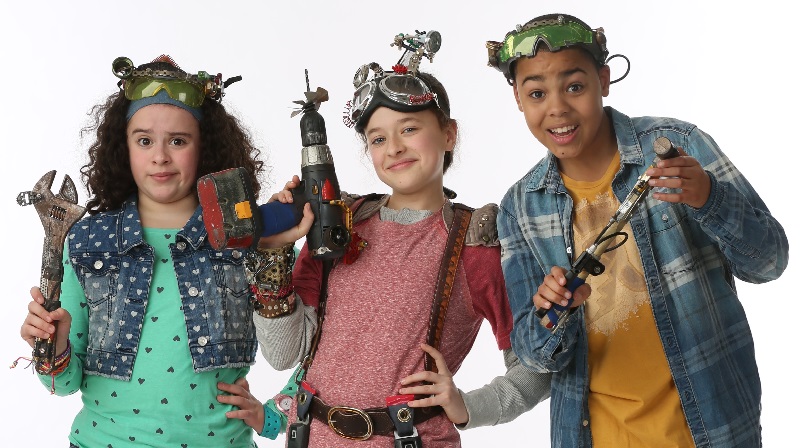 From left to right: Shania, Anne, and Nick
Shania
Shania is a hyper girl. She loves gymnastics, dancing, singing, and showing off to anyone who will watch. She is Nick's next door neighbor and lives with her grandma and three little brothers. There's a certain spark about Shania that makes her so lovable. She doesn't like to get dirty and is easily bored when Anne starts to explain something scientific to her. But she knows she must help Anne or else she risks missing out on something fun. She hates when something happens in the junkyard without her there.
Anne
Anne is the girl who lives in the junkyard with her dad. She is a scientist and has built three androids: Hand, Eyes, and Pal. The three androids help her with her experiments for school or for exploration purposes. She's never had any friends outside the junkyard since she's homeschooled. She is very interested in learning new things and loves to make things better than ever before. Anne is a very sweet and humble girl which is the perfect addition to the trio.
Nick
Nick is the new kid in town. He plays video games most of the time before he gets curious about the junkyard across the street. He's sort of introverted but Shania is a great counter balance for that. Being the only boy, he gives a different perspective on things when Anne needs to find a new solution to a problem. Nick lives with his mom who is a reporter for the local news. He goes to the junkyard whenever he can so he can help Anne build things and spend time with the androids.
The Thing I Absolutely Love About This Show:
Everything. The characters, the story line, how Anne ties her hair with cables and wires and it looks so darn cute. All of it. I just gobble it up and want to binge watch all the episodes. EVERY. SINGLE. WEEKEND.
The Thing I Hate Most About The Show:
The suspense! I had to wait a whole year to find out what happened to... never mind. I hate suspense so when I saw the third season was on Amazon Prime. What was my reaction? Must. Binge watch. NOW. What did my mom do? Not let me binge watch *headdesks obsessively*
If I tell you anything about what happens in any of the seasons, I will kill it for you. So I'll leave that there. There's only three seasons and we're one episode away form the end of the last season. The third one came out this summer and what was so crazy. In the beginning when Anne... *breathes heavily* And then Nick's mom... *breathes in paper bag* AND CURSE MAGNUS TECH AND ADA TOO BECAUSE... *runs off and nearly dies from suspense for the next season*
There isn't much about Annedroids on the internet. So I'm coming up with a name for the few fans of the show. So I am VERY proud to say that I am a Fandroid! Pretty clever, right?
Well, I hope you can check out the series somehow because it's a great show. Thanks for reading and I hope you're all ready for October! I can't wait!!!